you'd think i'm crazy but i'm not the happiest person right now, even though united just won a crucial game against arsenal, that too with a 2-0 scoreline.reason? ronaldo's showing.no, he didn't make any glaring mistakes or disappear from the game, but i was expecting so much more from him yesterday.while i admit to day dreaming about ronaldo scoring a hattrick, i'm not upset that that didnt materialise...i just hoped his brilliance showed through more, when a larger audience than usual was watching the game. what happened to 'big game player' ronaldo? i recall him being truly impressive in two big games this season: cheslea at OT and carling cup final.he needs to step up his performance in more important games, go out of his way to make an even bigger impact.that's how he's going to shut his critics...i take criticism of ronaldo quite personally and it frustrates me when he doesn't help his cause by not doing what he does best.i just want him to do well damn it.
now to the game.i was expecting ronaldo to have a field day against flamini but every time he charged down the wing, he was closed down by gilberto/sanderos, along with flamini, and that reduced his effectiveness in beating his marker and crossing into the box to some extent.he also seemed to play a smaller role in attack yesterday, i remember ruud, rooney and giggs/park surging forward on one or two occasions and ronaldo wasn't on the screen because he was still in midfield.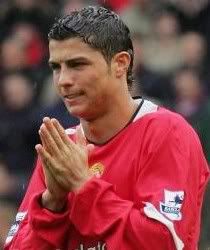 ronaldo played in the centre for a few minutes in the first half and i found myself pleading him to move out wide and use his pace to run at flamini.i don't know if it was for tactical reasons but ronaldo seemed to avoid going forward, opting instead to feed the ball to neville who was in a more advanced position than ronaldo on many occasions.anyway, ronaldo did make some important interceptions and worked well and ran hard to keep the ball in play several times.if i remember correctly, park's goal happened because ronaldo ran back several yards on the right wing to keep the ball in the field and then fed it to neville who passed to rooney and the latter set up park's goal.

it would be wrong to say ronaldo had a bad game and i don't want anyone to get that impression from my entry, but i think my lack of satisfaction with ronaldo's performance has to do with my high expectations before the game.i don't think i'm wrong to expect great things from him because he is capable of them.he was a pressure reliever of sorts yesterday, the team would give the ball to him and wait for him to attract the defenders and this would take some of the pressure off them...i would've preferred seeing him involved more in attacking though.oh well, there's still the chelsea game.
Telegraph
Cristiano Ronaldo was magnificent in flashes yesterday while the versatile Ryan Giggs continues to impress, but they lacked the sustained excellence of Rooney.
(that's exactly what i didn't want to hear/read after the game)
p.s. i thought ronaldo was going to be presented with his pfa award before the game? all i saw was rooney with his barclay's award.