i can't begin to explain how angry and disgusted i feel right now. last night's game was unbelievably painful to watch, and to think i stayed up late for that, when i had an important test today morning.i don't claim to be precognitive but before the match, i thought to myself that this could well be a lots-of-possession-but-no-goals encounter and unfortunately, i was right.ronaldo frustrated me a lot, i was ready to tear into him today in my entry but reading what the media wrote about his performance changed my mind.he has been labelled the 'culprit'. would you believe that? when the whole team was sloppy, wasteful and sub-par? i f*cking hate the english media.there, i said it.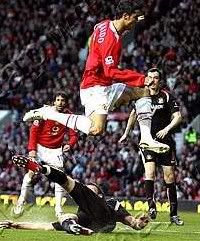 as for the actual match,i don't know where to start.it was basically a childish performance by united in the first half and as an 'arm-chair' fan, it was even more frustrating for me as i couldn't scream my lungs out at the players for their stupidity.i've lost count of the number of times ronaldo made space for himself, ran the length of the field, got himself into dangerous positions but was completely ignored by his teammates. rooney was visibly selfish and opted to shoot from all over the place instead of feeding the ball to an unmarked ronaldo, you could tell ronaldo was livid. but then again, ronaldo really didn't help himself.when he did get the ball, he seemed uncertain of what to do with it.but that still doesn't excuse rooney's and other's decision to not give ronaldo the ball when he's right infront of the goal, unmarked.and what's with the close-ups of ronaldo? i remember seeing several replays of ronaldo falling in the penalty area and it looked like an honest slip, infact he didn't even appeal for a penalty, but it seemed like the replays were shown just to suggest that ronaldo was diving when that clearly wasn't the case.i don't recall seeing replays of park tumbling and rolling when he was touched so what the hell are they trying to prove?
i thought the team played a more mature second half but it still wasn't enough for a win.ronaldo for once was given a pass at the proper time and he shot at goal, but the sunderland goalkeeper blocked it in time.i don't remember much details but ronaldo seemed to put in more effort and i recall him winning balls a few times.anyway, i was too ticked off by then to really concentrate on the game.i was waiting for a miracle of sorts, some magic from ronaldo that would win the match.but nothing came.sometimes i wonder if it's wrong to expect so much from his as ferguson said after the game...but i feel he's capable of all that and much more.
ManchesterOnline
Culprit
Predictably, Ronaldo was the worst culprit. Every time the ball reached the Portugal winger, he appeared to look upon it as a chance to experiment.
Ryan Giggs, a gnarled veteran of dogged championship fights and hardly lacking in ability himself, felt it necessary to admonish his young team-mate at one stage and it was Ronaldo who got robbed by Justin Hoyte to start the move which ended with Jonathan Stead turning a fine chance into the side-netting.
Ronaldo was denied two glorious goalscoring chances by his own team-mates, with Ruud van Nistelrooy intercepting one Wayne Rooney pass before it reached the winger. Then Rooney himself ignored his better-placed team-mate in the final minute of the first-half, although he did force a fingertip save from Kelvin Davis.
"predictably".it's manchesteronline with their usual anti-ronaldo bollocks.i remember when they gave him a 6! after his perfomance against fulham at OT where he scored a brace and even added that he 'lacked end product'.hello, what were those two goals.after a lot of protest by more sensible fans, they did change the rating but that was their actual attitude towards him.it's funny how they mention that ronaldo was denied two clear goal scoring chances by teammates and still hold him responsible for the unexpected draw.what about rooney's selfishness and ruud's poor first touches and lack of finishing? giggs's two skyed free kicks? it's always ronaldo ronaldo ronaldo when something goes wrong.screw the english press.