delighted with ronaldo's response after last match's disappoinment.i think i would've had a nervous breakdown if he didn't show up for this game.nowadays i'm so worried if a trick would come off or if he'll get past his marker or not that i almost forget why i became such a huge fan of his in the first place.he's all about generating excitement and brining spectators to the edge of their seats and watching him play today, i was reminded of that ronaldo and it brought a smile to my face.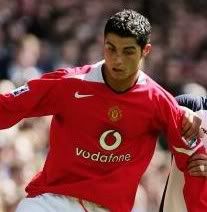 ronaldo looked charged up and ready to take on defenders right from kick-off and that's always a good sign.not to say that he doesn't put effort into every game but he seemed especially determined to get things right in this one.i think the first half saw a deadly mix of ronaldo's many attributes: delightful skills, amazing pace, heading ability and assisting goals.united took the lead inside the opening 10 minutes and ronaldo was the architect.after a tottenham corner was cleared, ronaldo received the ball near the edge of united's 18 yard box and ran forward with a defender tagging along.he passed the ball to ruud and kept running and ruud's return pass seemed to be heading out for a goal kick but ronaldo's pace helped him get to it just in time and make an outstanding pass from the left, with his right foot, to rooney in the 6 yard box.you just had to look at ronaldo's fist thumping reaction to see how happy he was.fans of his skills were treated to some delightful footwork...the wasteful nature of his skills in the last match didn't discourage him from using them again and it's good to see that he's always optimistic.i remember him turning a tottenham defender inside out and then finding park with a no-look-pass.then there was his lightning fast stepovers that made david's later attempt look ,umm, amateurish.his tricks also had purpose today as i recall him sending silvestre free with one backheel and getting the ball to a teammate in a tight situation.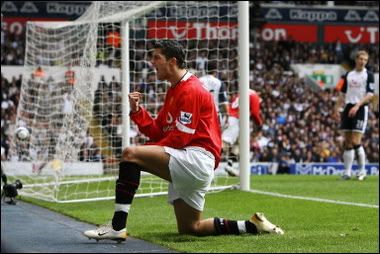 the second half saw tottenham dominate possession so ronaldo wasn't really getting much of the ball or pushing forward.but i remember him making a clever run into the box where he received the ball from giggs and while his first touch was great, he ended up shooting over the bar.a commendable effort nonetheless 'cause it's not often that you see ronaldo making those striker-like runs.he spent most of the time in united's half trying to defend...i've seen him cover players but him closing down someone running with the ball is a rare sight for some reason.i'm not saying that he has to do that but maybe some fans would like him better if he did.maybe they'll stop their incessant 'rooney rooney' chants and for once take ronaldo's name. or maybe not, 'cause whether he scored and they're cheering him or he's playing bad and they're trying to encourage him, all i ever hear is rooney chants. anyway, i'm not going to spoil my current mood by brooding over that.here's hoping we see similar impressive performances from ronaldo in the remaining fixtures.
some video clips thanks to footyfanatic:
Ronaldo assists United's opener
Impressive skill
Trick pass
Backheel to Silvestre
Ronaldo vs Tottenham compilation by nox
Posted at 08:20 pm by
r-revolution