i was putting off making an entry on the chelsea game for as long as i could.i didn't want to re-live that experience again.infact, for the last two days i've been 'hiding' ...i'm avoiding the forums and message boards i normally frequent 4- 5 times a day because i don't want to be reminded of the game.i don't think i have much to say about how the match itself was played.ronaldo was given the physical treatment and this time, he decided to dish out some physical challenges of his own, leading to a booking.i still maintain that lampard fouled ronaldo before the first goal...how many times have we seen a player use an illegal challenge to get the ball from ronaldo, only for the referee to turn a blind eye to the foul and allow the opposing team to score a goal.and how many times have we seen ronaldo shoulder the blame, be labelled the culprit, and get singled out for criticism when the entire first team - comprising of some veterans and the "white pele" (btw, get well soon) -underperforms or disappears.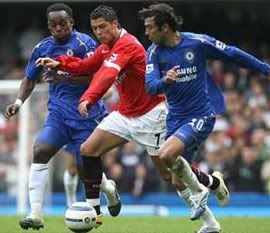 i don't know why certain things i say always come back to bite me.just before the start of the second half, i came across the first half stats for joe cole and ronaldo and was pleased to see that ronaldo had a better half with 14 completed passes and1 shot on target, compared to cole's 2 completed passes and 0 shots on goal.maybe i should've kept that discovery to myself 'cause not long after i boasted about those facts to my brother, joe cole did what is usually synonymous with ronaldo: stepovers and going shirtless after scoring a crucial goal.it should've been ronaldo's lightning quick stepovers and toned body on the tv screen...not cole's i-only-do-it-in-my-own-half-at-snail's-pace version and that rather flabby, pale torso.*sigh*.

when i saw that nistelrooy was coming on, i was pretty sure he was going to replace park, and you can guess i wasn't amused to see ronaldo getting subbed off early in the second half when he was playing better than park, and even giggs.but maybe ferguson's decision was a blessing in disguise...the quite physical nature of the match could've led to an ugly injury...i don't want ANYTHING to jeopardise his world cup, he has a point to prove and i have some scores to settle.
Posted at 12:04 pm by
r-revolution