ah well, another season comes to an end.wasn't it just yesterday that united played the season opener against everton, and i was all worked up because ronaldo didn't feature in the game due to a slight injury.this probably wasn't the ideal season given that united didn't win the title, but with all the setbacks that the team had to face, coupled with an almost non-existent midfield, second spot is pretty good!
i sat through an uninterrupted first half but my brother insisted on following the second half of other games so i only caught bits of united's last 35 minutes.while i maintain that ronaldo can still do a LOT better, he had a pretty productive first half.neville continued his 'ignore ronaldo' routine (i think he passed the ball to ronaldo only about two or three times in the game) and at times ronaldo moved to a more central position.i think fans of ronaldo's trickery and skills (like myself) would be disappointed with his (largely) no-nonsense showing in the last couple of games.i was honestly expecting him to showboat for our pleasure, given that united were leading comfortably before half time, but i just have this feeling that he's saving the best for the world cup.he opted for a lot of simple passes yesterday, and while many may hail that as a sign of maturity and willingness to play with the team, i honestly enjoy watching the ball-hogging ronaldo, as long as he makes the right passes in the end.anyway, i was pretty excited when ronaldo stepped up to take a free kick from 35 yards out and though it didn't hit the back of the net, it was a pretty good shot.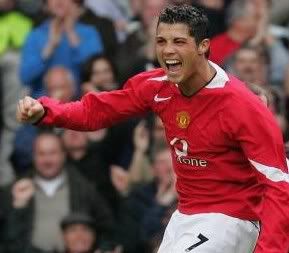 ronaldo was involved, to various degrees, in all three first half goals.saha's headed goal was a result of a corner won by ronaldo.after doing well to control the ball initially, ronaldo's weak, delfected shot seemed to let him down.but the resulting corner opened the scoring for united.then ronaldo scored himself.a giggs pass found ronaldo in the 6 yard box and he slotted the ball home from close range.i was pleased to see him score on the last day of the season, and while he didn't actually win the 15 goal bet he had with SAF, 12 goals and 7 assists is an impressive stat, especially when you consider how his season started and all his off-field problems.the third united goal was a result of a charlton defensive mistake (an own goal) but ronaldo was the only united player in the box at that time and he was the one to put the defenders under pressure.another impressive play from ronaldo was his run down the right wing, he went past three players using his pace and i remember standing up with my mouth open, in anticipation of what would follow.ronaldo decided to cross into the box and the ball was eventually headed away by a defender, but it would've been a great assist had saha or rossi got on the end of the ball, or a great individual goal if ronaldo had opted to go for goal by himself.speaking of individual efforts, richardson kinda reminded me of ronaldo with that shot and shirtless celebration.even the commentator thought it was ronaldo but i could tell from the hair that it was richardson, good for me or i would've gotten all excited for no reason :D
can't wait for next season,though things might be different then as i'll be in university.i wish ronaldo great success...though it may not be possible for me to witness his progress as regularly as i can now.here's to the future: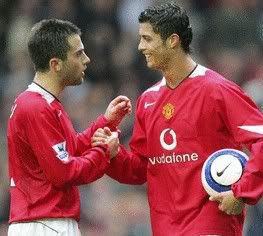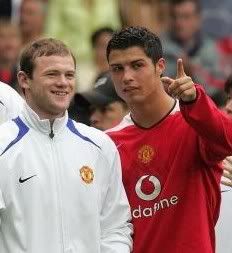 Ronaldo's goal (2-0)
Nice backheel
Ronaldo's run down the right wing
thanks to: footyfanatic
on a slightly different note, RTP recently featured ronaldo in its 'Exclusivo Mundial' show and we got to see ronaldo's home (at manchester), meet his cousin and brother in law, hear him sing along to BPT's Moody and watch him do some great tricks in his backyard. in short, this is a MUST SEE.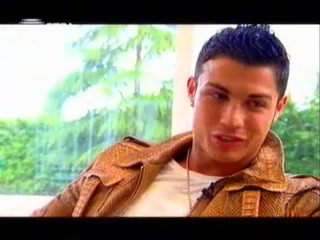 Click here to download
thanks to bS-7