yes, our ronaldo has made it to the team :D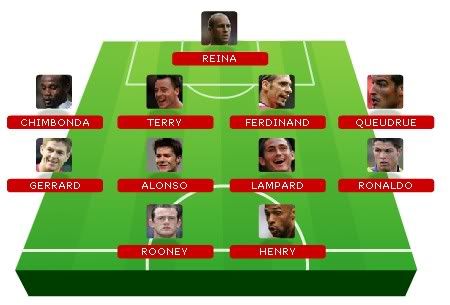 Source: SkySports
---
i wonder what others have to say about the alleged bust up between ruud and ronaldo.if there's any truth to those things that ruud told ronaldo, i have to say i'm very disappointed with the former's childish behaviour and there's no excuse for picking on your teammates like that.i've always liked ruud and it looked like he and ronaldo got along great together...till this season i.e. .i dont know why i get the impression that ronaldo is seen as an easy target by his teammates.i always see giggs and neville shouting at him on the field even though others make silly mistakes all the time.and now these alleged bust ups with ruud in training. and i don't understand why the papers are trying to create a direct link between that argument with ronaldo and ruud's departure.if anything, the whole situation was created with ruud being dropped from the first team.he wasn't happy with that and ferguson had his reasons. anyway, i would've been happier if ronaldo was left out of this whole thing.
Posted at 09:59 am by
r-revolution
Kyle


May 9, 2006 09:54 PM PDT



I don't believe that story one bit, it's a bit to soap operaish. I think there is a lot more to the situation, kind of like the Beckham one years back.
r-revolution


May 9, 2006 10:13 PM PDT



i've read obvious exaggerations of the incident, like ruud leaving ronaldo with a 'broken' face and reducing ronaldo to tears but i think the part about the two clashing over something ruud said is true, now that i've come across it on more reliable sources like the independant and football365.