it's quite ironic how i have little time to update my blog now that ronaldo is the toast of england.ofcourse, his detractors still exist in every nook and corner, but ronaldo turned around his fortunes in such dramatic fashion that any criticism of him looks baseless now, and not just to his fans.
looking back, his story has been a fairytale of sorts (one that would be complete if united go on to win the premier league and ronaldo gets some personal awards).
at one point i thought he wouldn't be able to survive in england, but he has done a better job surviving than anyone could've possibly predicted. to say he has been on fire this season would be an understatement. i wish i kept a virtual record of his performance this season, match by match, but time didn't permit that (though i haven't been posting regularly, i've watched every match featuring ronaldo this season, so i'm still as fascinated with 'twinkle toes' as ever). anyway, i always considered myself the voice that spoke against all the unfair lambasting he was subjected to, so now that people are dwelling on his positives, i don't have much to whine about :P
the maturity and courage shown by ronaldo after the whole WC incident not only impressed his critics but also propelled him to a near finished product, at the age of 21.the boy who lost his cool when 60,000 benfica fans booed his every touch last season became the man that took the english fans' abuse in his stride and used it to fire him up. i've lost count of matches in which ronaldo shut up opposition fans with a goal/assist/match winning performance this season.in the blackburn away game, the very people who booed him gave him a standing ovation when he was substituted in stoppage time, that's the sort of reaction ronaldo has come to evoke.
judging from the matches played so far, it looks like it's finally ronaldo's time to exact revenge. he marked his return to england with a brace against oxford united in a pre-season friendly, and opened his premiership season with a goal against fulham. since then, there has been no looking back for him.against benfica in the away CL fixture, ronaldo gave a MOTM performance, the same ground where he was booed off and responded with an offensive gesture last season. against manchester city, he scored the 3rd goal, a game in which he was sent off rather harshly last season.
on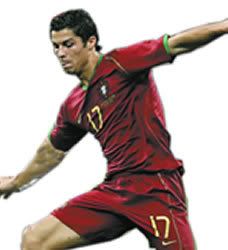 the international front, ronaldo has continued his impressive form for portugal, although their euro 2008 qualifying campaign has been less than perfect.but the wins they registered so far were thanks to cristiano, who scored a brace against azerbaijan and a fine goal against kazakhstan.much was expected from the portuguese NT though, after they reached the semi finals of the world cup.the mention of 'world cup' and 'portugal' conjures up memories of the ridiculous ronaldo hate campaigns spearheaded by the english and a certain FIFA which believes in its 'Fair Play' motto selectively. i remember wanting to address the whole Young Player of the Tournament issue but never got down to writing anything about it except in a forum i frequent. zidane got away with a shocking headbutt and ended up with the Player of the Torunament award, ronaldo apparently didn't get any recognition for 'disciplinary' reasons even though he was the best young player by a country mile. i wonder who decides which action breaches FIFA 'fair play' laws. the whole thing's pretty old so i'm not too keen on bringing it up again but the manner in which ronaldo has been treated by certain parties is disappointing.
i'm not attempting to recap this entire year in one post so i've probably missed out a few defining moments. i might blog more often in 2007, and i have a feeling it'll be cristiano's year.