i was pretty satisfied with ronaldo's performance yesterday.he didn't get a touch of the ball in the first 2 to 3 minutes because neville opted to make his usual crosses into the centre (and apparently someone complained on MUTV that ronaldo was ignoring neville's overlapping runs...talk about irony).but when he did get an opportunity to run with the ball or distribute it, he did a commendable job.the free kicks weren't clicking this game but he seems to be working really hard on getting them right in training.the probabilty of hitting one similar to his goal against fulham is pretty low given the extraordinary swerve that it took, so maybe ronaldo should opt for curving the ball at times, instead of trying to hit it with great power.
i loved the part where he outmuscled inamoto and ran almost 70 yards with the ball before it, unfortunately, ended in the keeper's arms.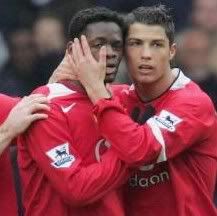 Ronaldo with goalscorer Saha
i was relieved to see him use some tricks in the game.it was a welcome change from his 'barren' performance against newcastle.whether it was backpasses or nutmegs, ronaldo spiced up the game with his trademark moves and it's a shame that replays of some of those tricks weren't shown, especially his pass to neville in the 41st minute.
i thought ronaldo had an excellent second half.going past players with extreme ease, making dangerous passes into the box, dispossessing players, initiating quick counter attacks and winning free kicks at threatening areas, he was unstoppable.at one point he took on three players and drove a fierce shot at goal.i think he deserved to get atleast one goal but he did get what proved to be the all crucial assist for united's 2nd goal (the match ended 2-1) so all didn't go to waste.it was a pleasure watching ronaldo player like that because it has been a while :)
Sky Sports




ronaldo also made it to sky sport's team of the weekend
Sky Sports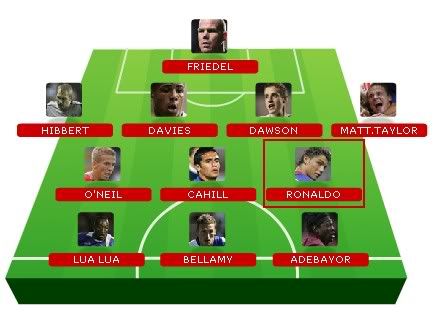 Independent
MAN OF THE MATCH
Cristiano Ronaldo
Manchester Utd
The Portugese winger turned on all the tricks but in a disciplined manner and was at times unplayable
Videos clips:
Ronaldo's assist
Ronaldo nutmegs Robinson
Ronaldo nutmegs Greening
Ronaldo's no-look-pass
Ronaldo's clever backheel to Neville
Inamoto eats Ronaldo's dust
Ronaldo takes on three defenders and shoots
Ronaldo dribbles inside the box
all clips courtesy of Carabineri
match compilation by golden boot
and this video is not related to the west brom match but it's a must see:
Ronaldo dancing with the ball in the Portugal dressing room after the KSA match.
isn't he amusing? and he even megged the guy in the suit.