writer's block has complicated my task of updating this blog and i've been putting off writing something for the past half hour or so because i don't know where to begin!anyway, putting this less than perfect introduction behind and getting straight to the match, ronaldo's passing had me drooling yesterday - yes, i'm talking about his beautifully executed chip to rooney which left the latter one on one with the goalkeeper.for all the talk on ronaldo having no vision or football brain and other nonsense of that sort, he showed great presence of mind with that one move.even though i was watching the game on tv, and had an aerial view of birmingham's half, i wouldn't have thought of doing that.take a bow, cristiano.
ronaldo was having something of an off-day as far his his tricks were concerned but otherwise, his passing and mazy runs made him one of the best united players on the field.remember when he streaked down the wing and put in a perfect cross which richardson couldn't really convert? and when he went past 4 birmingham players with his pace alone only for his efforts to go to waste by ruud's offside position? after the game, some were of the view that ronaldo was wasteful and unnecessarily elaborate at times but i recall only one incident where he probably should've done better than give the ball away, otherwise i thought he played a pretty direct game and when he lost the ball a few minutes before the end of the match, he went back and calmly retrieved it.he seems to doing that more often these days.
ronaldo had a hand in two of united's three goals.he won a free kick near birmingham's 18 yard box which giggs converted for united's 1st, and it was also his flicked header right into rooney's path that set up united's 3rd.2 great moves initiated by ronaldo to set up rooney had earlier been wasted by the latter so it was something of a relief to finally see rooney do justice to ronaldo's efforts.
Sky Sports
Again Giggs was involved as his flick from Cristiano Ronaldo's pass sent Rooney clear, but the England man could only fire his left foot effort just wide of Taylor's post.
Then an even better chance came, this time it was Ronaldo who threaded the ball through the static City defence - only for Rooney to once again fire wide with Taylor looking beaten.

The goal was real route-one stuff as van der Sar's clearance was flicked on by Ronaldo, Rooney took the ball down and past Martin Latka before firing past the stricken Taylor.
BBC
But the abiding memory of the first half an hour will have been United's dynamic play with Rooney and Ronaldo in their element as they displayed some devastating footwork.
Rooney should have got on the scoresheet himself but squandered two clear-cut chances after being put through by Ronaldo.
Times Online
Rooney then contrived to miss two one-on-ones • the first from a beautiful flick by Giggs, the second from a delicious chip from Cristiano Ronaldo, who had a field day
Clips
Ronaldo and Giggs set up Rooney
Ronaldo's audacious chip to set up Rooney
Ronaldo's assist for United's 3rd
clips courtesy of chazo
Match compilation by footyfanatic
after city fans voted ronaldo the most notorious diver in the premiership which is a blatant lie, i think i'll take scant comfort in the news that Gordon Taylor, chief executive of the Professional Footballers' Association, said Drogba should follow the example set by Cristiano Ronaldo and learn to stay on his feet when tackled.
M.E.N.
"We had a similar thing in the past with Cristiano Ronaldo and he was known for going to ground too quickly. He is looking to remove that from his game and as a result he is a much better player."
and this is another must see video of ronaldo teaching some lucky kids a few tricks, also includes SAF and wes brown's interview where they talk about ronaldo: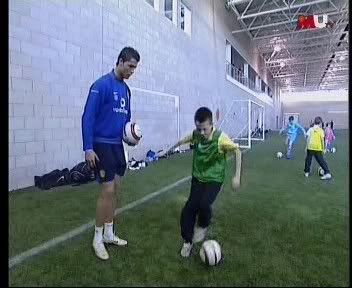 Download here
thanks to footyfanatic
lastly, here's the new Galp ad featuring ronaldo, quaresma and postiga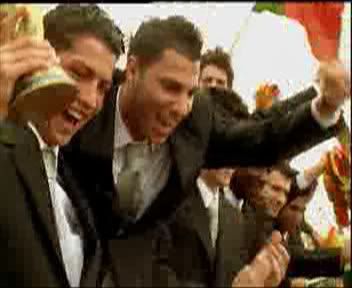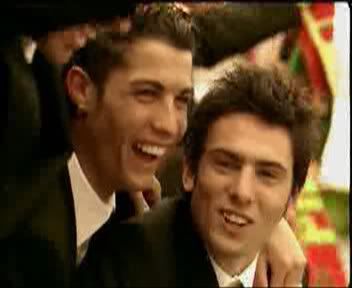 Download here.thanks to Andre Murracas