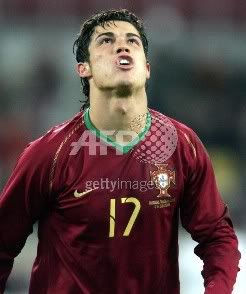 it seems like whichever site or forum i go to, ronaldo is a victim of stereotype, and opinions on him are greatly generalised, sometimes even prejudiced.i cannot really fault some of them as they don't watch ronaldo on a weekly basis, but they still feel the need to comment on him, ending up sounding like the average english football pundit with the 'all flash and no/scant end product' view.people deny it, but they're greatly influenced by the media's approach to certain players.when talking about the likes of messi and rooney,most football fans automatically praise them even if they haven't been particularly impressive in recent matches but with ronaldo, it's a matter of thinking twice before crediting him with something, even if he has been playing well.the media hasn't really made much of the fact that since ronaldo found his form after his 3 match ban, united as a team have been playing better.so this observation has gone largely unnoticed. ferguson recently pointed out the extent to which the media inlfuences opinion when he questioned the efficiency of the FA's compliance unit :"The compliance unit doesn't react unless the press report it. When Stephen Jordan made that horrific tackle on Cristiano Ronaldo, the press didn't report it and the compliance unit did nothing."
general opinion on ronaldo ranges from the ignorant to the absolute ludicrous.the other day i came across someone who said cristiano was the most predictable player around because he's breaks into a stepover sequence everytime he gets the ball.seriously, when was the last time you watched him play? ronaldo has long proved those who criticised him for a being a "one trick pony" wrong.ofcourse, now those same poeple have given him the "no end product" tag but if you're going to sit and criticise him, the least you can do is read up on ronaldo's latest 'flaw'.speaking of end product, no player in the world has a 100% conversion rate and in ronaldo's case, his 'lack' of finishing is greatly exaggerated.those who don't watch him regularly are bound to produce the same point over and over again in defence of their criticism of ronaldo.
and then there was a member who was convinced that ronaldo was an international flop who has done nothing for the portugal national team so far.i cannot imagine anyone in his or her right frame of mind making that claim since ronaldo has been one of the primary reasons for portugal's great euro 2004 form and unbeaten run in the qualifiers by scoring goals, making assists and simply being present on the field.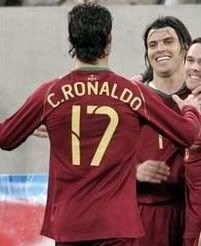 this is where the world cup steps in.ignorant views stem from seldom watching a player or team play and the world cup would provide the ideal platform for ronaldo to show the world what he's all about.it's more or less a make or break situation, ronaldo has to sieze this opportunity or be written off permanently.the likes of rooney can afford to have a bad torunament as they always get the recognition they deserve (and at times, don't deserve) anyway, but sadly that's not the case with ronaldo.i do acknowledge that not everbody is compelled to love ronaldo but it gets highly irritating and frustrating when people criticise him for the wrong reasons.ronaldo has to help his country go far in the competition and prove his many critics wrong...i can feel the pressure already.
on a slightly different note, given that ronaldo continues to have a free role in the portuguese team, his ability to play in all forward positions (wing/centre midfield/upfront) would also be highlighted and that's crucial in deciding where he's used for his club because, although his pace and trickery have made him a success on the wings, i've always felt that he'd be more lethal as an attacking midfielder or support striker.
this is a big year in ronaldo's career and judging from recent interviews, he's fully aware of what's expected of him.as for me, i can hardly wait for the world cup to get underway.