it's been a while since united played a mid-week game and i actually enjoy staying up late, fighting sleep in an attempt to not miss anything that unfolds on the tv screen and being jolted awake from my half drowsy state every time ronaldo does something amazing.makes the whole ronaldo experience a lot more surreal.yes, watching him is an experience on its own.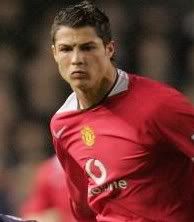 yesterday's game saw another emphatic performance from ronaldo.i loved everything about it - his amazing acceleration, mazy runs, how-did-he-do-that ?! moves and even ball distribution and crosses.i thought ronaldo saw more of the ball on the right wing than he has in recent matches...maybe it was down to pique playing in neville's position as he seemed more willing to feed the ball to ronaldo.not much has been said about this but i thought ronaldo picked out his teammates really well with his passes, he made use of every little opening.though details of both the halves are hazy, i recollect a ronaldo penalty appeal being turned down (no, it wasn't a dive), a few good crosses which weren't taken advantage of by the players in the box and one of those jolt-me-awake moments.ronaldo had moved to the left wing from the right, and after receiving the ball and advancing with a few graceful strides, in one sudden, unexpected and quick move he accelerated past benayoun and was...gone.vintage ronaldo.
the first 10 to 15 minutes of the second half saw united play some free flowing, entertaining football. ronaldo wetted my appetite for some hardcore skills when some nifty footwork left two west ham players rooted to their place and the entire stadium buzzing.the reaction of the crowd must've excited ronaldo as his next few touches were some skill or the other.he even did his 'keepy uppy' trick, the one that had the andy-s green and gray fuming at its "disrespectful" nature (what next, ronaldo's skills encourage racism in football?). there was only one instant where i thought ronaldo should've done better...i love his rabonas but this time the better option was to pass and he realised that the second after he did the move.the second half saw more of ronaldo's killer pace as he outran the west ham left back to put the ball to rooney with his left foot.it was great work from ronaldo and his ability to use both feet is a big advantage for him.anyway, rooney hit the crossbar so what could've been an impressive assist came to nothing.had ruud and rooney converted all the great chances created for them by ronaldo so far, ronaldo would've had a lot more than just 5 assists this season.ronaldo's pace continued to create problem and at one point, while running down the right wing, ronaldo fell down after being tackled by a defender but he was up in a split second and won a throw in.i love seeing such determination from ronaldo.it's hard not to have faith in his development when you see him play that way.
while ronaldo's skills were a joy to watch, he did end up giving the ball away a few times but i don't see why some are using that as an excuse to single out cristiano for criticism.all through the match i saw every player give away possession in some way or the other.everytime ronaldo picked out ruud with a pass, the latter's knee gave way mysteriously whenever a defender approached him from the back so there went united's possession.some of park's runs were halted by easy tackles.don't get me wrong, i like them both but if we are going to point out how united kept giving the ball away, we might as well mention all the guilty parties.
Sky Sports


(highest rating on sky)

big praise for ronaldo from west ham's manager pardew
Sportinglife:
"We can take a lot out of this game. We have come to a world-class club and played against world-class players.
"A lot of our players have made a huge step this year. To see Cristiano Ronaldo playing like he did shows the level of individual we are now in the grace of."
Video Clips:
Great skill by Ronaldo
Ronaldo sets up Rooney brilliantly
Ronaldo's rabona
Ronaldo's run - falls then quickly gets up
courtesy of : Carabineri
Match compilation by golden boot (you have to watch it)
here's a must see video of ronaldo vs zlatan, a new ad shot for nike's joga bonito which highlights "skill"